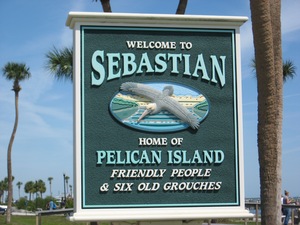 Welcome to Sebastian, Florida where retirement is really easy. In Sebastian, we boast of our hometown ambiance, which models the "old south" because of our laid back lifestyle and "fishing village" history. Now, more than ever, Sebastian is the place to live or visit frequently because quality housing is plentiful and affordable. Sebastian has the perfect location, close enough to the benefits of major metropolitan areas like Orlando, and West Palm Beach, without the hustle and bustle. Here in Sebastian you won't find traffic jams, congestion or over-development as in other parts of Florida. You'll find high quality of life for a reasonable cost of living that can truly make retirement a joy. In fact, as the City's slogan goes, even the "six old grouches" don't detract from our little piece of paradise on the Indian River Lagoon.
Sebastian is special and different because of our character and amenities. For example, Sebastian is home of "Pelican Island", the first National Wildlife Refuge. Along our waterfront, you'll find all types of water sports, boat docks/moorings, repair, and storage facilities, deep-sea fishing, eco-tourism, surfing, miles of beaches and a direct outlet to the Atlantic Ocean from the Indian River/Intracoastal Waterway through the Sebastian Inlet. Sebastian is in the final process of completing its "Working Waterfront" facility in the heart of Indian River Drive on the Indian River Lagoon. The City also operates an 18-hole championship golf course with practice facilities, golf professionals and a fully stocked pro shop. For the aviation enthusiast, Sebastian has a City owned, "boutique" municipal airport with lighted 4,000 foot and 3,2000 foot non-lighted runway, aircraft storage, maintenance, and even a world-renown skydiving school/facility are on the field.
May we at the City of Sebastian add that real estate prices probably will never be much lower than they are today here in Sebastian. There are over 225 properties available at attractive prices waiting for you in Sebastian. The 2015 Zillow Home Value Index for Sebastian is $149,000. Click here to contact one of our local real estate experts, Welcome to Sebastian where retirement REALLY is easy!
We hope you'll tour our community and look at all of the City Websites, cityofsebastian.org, sebastianairport.org, sebastiangolfcourse.org and sebastianbusiness.com, for all the information you'll need to consider retirement in Sebastian, Florida where retirement is really easy because it is "life on the lagoon"
Many of our photographs and aerial shots courtesy of Jerry Peterman, Sebastian resident. You may e-mail Peterman at xcrk607@comcast.net.