Housing
First and foremost, in retirement, housing is the largest cost consideration and Sebastian offers affordable retirement living. If there is a positive side to the recent Florida real estate depression, it has made buying a second home or retirement home very affordable.
For general specifications in Sebastian, the typical Florida "retirement house" is located on an 80' x 125' lot, containing three bedrooms, two baths within approximately 2,000 square feet.
The nationally recognized real estate information firm, Zillow, lists their "Sebastian Home Value Index" as $149,000 for a single family house They list the Median Sale Price as $161,715. These figures are as of August 2015. Click here for more Zillow information regarding Sebastian Real Estate.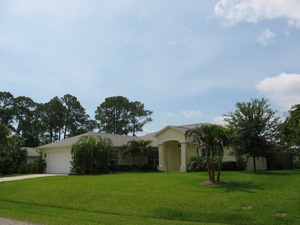 Due to recent past decline in Florida real estate values, there is a large supply of single family houses and condominiums available. Sebastian has an inventory of at least 250 homes for sale. There are many excellent values available due to unfortunate foreclosures and "short" sales. Please check with a local realtor regarding these properties.
There are number of "gated" communities within Sebastian that provide an added level of security at well as various amenities including club-house, tennis courts and common swimming pool.
Condominiums are also available in Sebastian for those who want to retire without the maintenance of a single-family home. Like all housing in Florida, the condominium market has seen a similar decline in prices, making now a great time to buy.
Renting is also an option and Sebastian has choices here. Renting may be a way for you to look our area over and experience "life on the lagoon" without making a commitment to permanent housing.
Finally, there are also several manufactured home communities and RV parks.
Real Estate
In order to facilitate your retirement consideration and relocation to Sebastian, we have provided a link to Realtors Association of Indian River County. Click here to transfer to their site. Using this site, you may look for property or find a realtor who may assist you with your search.
The City of Sebastian does not offer any warranty, expressed or implied, with respect to any information you may receive from this link to the Realtors Association of Indian River County. This link is only supplied as a courtesy to our website users.